One of the great strengths of Grower Direct is the people and companies we have formed alliances with, who we like to think of as our "partners". In building these partnerships it has always been important for Grower Direct as a whole to get to know each and every one of them individually in order to establish a good working relationship and to ensure both sides understand the others needs and expectations.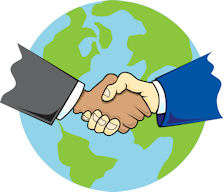 In this regard we have traveled to Miami and further south to Ecuadorand Colombia to meet with the owners and with the people who run each of their respective businesses. We have been well received on each occasion and been given personal guided tours of the flower farms or facilities in which growing and production takes place. It is very important that, while we establish good relationships with the suppliers, that we also see for ourselves that the product we purchase is grown in accordance with required specifications and that the facilities in which they are produced are of the highest standards. These partners have been more than happy to accommodate and are obviously proud of their end product, and with good reason.
In short, we strive to provide you, the consumer, with excellencein quality and superiority while still making fresh cut flowers an affordable every day event. Our partners are vital in making this happen by providing us with their services and their commitment. They make it happen. By meeting our needs they allow us to meet your needs!
To following is an outline of each of our major partners with whom we have established exceptional long-term business relationships and have been doing business with for many years. Doing so has allowed us to bring our customers what we firmly believe is the finest floral product available anywhere.
Please read on and get to know them a little better.
Our Fresh Flower Growers
Our Fresh Green Suppliers
Other Suppliers

Other Partners
Fresh Flower Growers
---
Floramix
FloraMix was founded in 1995 with offices in; Maine, Florida and Bogotá-Colombia. They currently represent a great variety of growers from five different countries; Colombia, Ecuador, Guatemala, Costa Rica and Italy. FloraMix is a full service importer supplying Grower Direct with an incredible variety of flowers to fill our customers need.
– Products – Specializes in: Tinted products, Tropicals and Novelties. Also carries: Alstroemeria, Calla Lilies, Chrysanthemums, Carnations, Focal Flowers, Gerberas, Lilium, Roses and more.
---
Golden Flowers  
Located in Miami, Florida, GoldenFlowers is a distributor of fresh cut flowers representing the joint effort of 34 Colombian flower growers and constitutes one of the largest producers of South American cut flowers. The flower farms are located in the Sabana of Bogotá, and the valley of Ríonegro (Medellín); their greenhouses cover over 1,000 acres of flower production with more than 25 different flowers and 500 varieties. They believe they help people express feelings with flowers.
Golden Flowers farms arecertified by Florverde, a program created by the Colombian Association of Flower Exporters (ASOCOFLORES) in 1996 to better the social and environmental conditions of the Colombian Flower Industry.
As producers and distributors oftheir own flowers, they are committed to providing consistent, excellent quality, and hassle-free service throughout the year. To do this they have built a solid organization with knowledgeable and experienced professionals, superior technology, and state of the art facilities.
– Products – Alstroemeria, Aster, Bouquets, Calla Lilies, Carnations,Cremons, Delphinium, Gerbera, Godetia, Gypsophila, Liatris, Limonium, Magic Roses, Mini Carnations, Novelties, Pompons, Roses,Snapdragons, Spider Mums, Spray Roses, Statice, Stock, Sunflowers and more.
Hosa   
Throughout their thirty years of experience in the flower industry, the HOSA Group has focused on nourishing the flowers they grow, caring for the people they work with, and protecting the natural resources that sustain them. They are dedicated to providing their customers with reliable, personalized care and offering a wide variety of exquisite fresh-cut flowers that range from classic roses to innovative bouquets.
– Specializes in: Lilies, Mini Carnations, Spray Roses and Novelties. However, they do carry many other varieties.
---
International Flower Exchange (IFE)
International Flower Exchange,Inc. (IFE) was established in 1982 with the goal of importing flowers for distribution in the United States, Europe, Canada and the Caribbean.
IFE is an independent flower company with offices in Miami, Florida and Bogota, Colombia, and Quito, Ecuador that imports a wide range of flowers from various farms. With IFE's expanding capability to offer a wide variety of farms and products, both IFE and its customers will continue to thrive well into the next millennium.

International Flower Exchange takes pride in their attention to quality. All the flowers they sell are shipped the same day they are harvested to insure freshness.
– Specializes in: Roses. They do carry many other varieties such as: Alstroemeria, Carnations, Gypsophillia, Hydrangeas, Hypericum and many more.
---
Miraflor Flowers   
From a simple farm of 4 hectaresin 1987 that grew only chrysanthemum flowers, Miramonte Farm has grown into one of the leading producers of chrysanthemums and novelty flowers in Rio Negro,Colombia. They are currently growing on 60 hectares – 125 varieties of chrysanthemums, filler asters, Liatris, snapdragon, gerbera daisy, greens and other novelty flowers. Their growth has been made possible by Their 921 dedicated employees.
Their collective years of experience (over 30 years individually) and continuity of management and employment is unique within the floral industry. Strong breeder relationships allow Miramonte to bring the newest varieties into the marketplace months or years ahead of competitors.
Miramonte operates with the latest technology and greenhouse facilities that include hydroponic growing techniques. On site laboratories combine university research with actual experience, to produce biological controls that are beneficial to the environment. Miramonte is BASC certified and has the Florverde Green Seal for environmental and social responsibility. In supporting Florverde, they reduce the use of agrochemical energy and water in flower production and improve the social welfare of the work force.
– Products – Specializes in: Chrysanthemums and Bouquets. They do carry many other varieties such as: Asters, Gerberas, Liatris, Novelties, Snapdragons and more.
---
Premium Flowers Corporation
Premium Flowers has been providing fresh cut flowers throughout the United States and Canada since 1985. Their corporate name reflects their philosophy: Only top quality flowers should make their way into their customers' hands. Based on this principle, they have built strong and mutually rewarding relationships and partnerships with the most distinguished buyers in the floral industry.
In order to fulfill their qualityassurance promise, they have a select and diversified portfolio of top-notch growers that control more than 1,000 hectares of production in Colombia, Ecuador, Central America and the Caribbean. As an independent marketer and distributor, Premium Flowers is in a unique position to offer their customers a full spectrum of the latest products and varieties at any given point in time.
As a crucial part of theiroperation, their suppliers are committed to following stringent quality standards which are complemented by a rigorous product inspection upon arrival at their Miami operations facility.
– Products – Specializes in Tropicals and Novelties. They carry many other varieties such as: Agapanthus, Alstroemeria, Bells Of Ireland, Campanulas, Carnations, Delphinium, Freesia, Ginger, Gladiolus, Gypsophillia, Hydrangea, Iris, Larkspur, Liatris, Lisianthus, Mini Callas, Mini Carnations, Misty Blue, Pompons, Roses, Snapdragons, Spray Roses, Sunflowers and more.
---
Transflora   
With over 12 years of experience in the floral industry, Transflora distributes product from Ecuador, Colombia, Dominican Republic, Venezuela, Guatemala and Costa Rica into the United States, Jamaica and Canada.
With its full time Quality Control Inspector and daily communication with farms, Transflora ensures product availability, and consistent quality to its customers. In addition to its excellent selection of cut flowers, Transflora offers customized packaging to meet the more specific needs of their customers.
– Products – Specializes in Lilies and Garden roses, also provides Alstroemeria, Calla Lilies, Pompons, Roses and many other varieties.
---
Jolo Flowers   
Jolo Farms grows flowers yearround on 400 acres of owned, operated or partnered farms in Florida, Ecuador, Colombia and Costa Rica. They supply a full line of florist grade premium consumer bunches, bouquets and arrangements to the mass market.
– Products – Alstroemeria, Aster, Bouquets, Calla Lilies, Carnations,Cremons, Delphinium, Gerbera, Godetia, Gypsophila, Liatris, Limonium, Magic Roses, Mini Carnations, Novelties, Pompons, Roses,Snapdragons, Spider Mums, Spray Roses, Statice, Stock, Sunflowers and more.
Greens Suppliers
---
Simpsons Greens & Floral
Simpsons Greens & Floral is a south Florida greenery distributor, specializing in cut greenery from Florida, Guatemala, as well as the west coast of the United States. With it's many growers, Simpsons is able to offer any type of greenery imaginable.
US Greens 
U.S. Greens was opened in 1988 to serve the floral industry as the premier grower and distributor of decorative flora greens and specialty cut flowers
---
Other Suppliers
---
Chrysal   
Chrysal is a leading provider of products for complete flower post harvest care. Top quality products from Chrysal ensure optimum longevity of flowers once they are harvested. Chrysal has leading edge products for effective post harvest care at each stage in the life cycle of a flower, from farm to your home.
---
Floralife   
For more than 50 years, Floralife, Inc. has provided a complete line of post harvest care products for the flower industry. In 1938, they introduced the first Floralife® Flower Food, and since then they have been the first to bring to market water specific fresh flower foods, and to develop a "Crystal Clear" fresh flower food. they have the products needed at every level of the flower distribution chain to ensure maximum consumer enjoyment and longevity of flowers. Read more….
---
FTD   
Grower Direct is a proud member of the FTD florist network which is comprised of approximately 16,000 florists in North America and connects to a network of approximately 45,000 florists in over 150 countries worldwide. Through this incredible network of professional florists we are able to provide our customers with flower delivery worldwide. Grower Direct has for over 6 years running received the honor of being selected as one of FTD's Top 100 members. Read More….
---
AMA / BCAA / CAA Manitoba  
Grower Direct is in partnership with CAA's Show Your Card and Save® program in the provinces of British Columbia, Alberta and Manitoba. CAA members visiting a Grower Direct store located in British Columbia, Alberta or Manitoba can show their card and save 10% on in-store purchases of fresh cut floral arrangements. For complete details visit:
– BCAA
– AMA
---
Western Direct Insurance
We have partnered with Western Direct Insurance in the creation of a series of YouTube videos on how to choose fresh blooms and how Grower Direct brings flowers from the farms to the consumer.