Grower Direct Franchise Information : Business Is Blooming!
Grower Direct franchisee selection is a measured process that will ensure the continued success of the existing franchisee system while allowing for managed growth. We are proud to say that the Grower Direct system is comprehensive enough to allow someone with no previous experience in flower or merchandising to succeed. In fact that virtually describes every one of our franchisee's. However, there is no doubt that the key contribution of our formula for success in the retail flower business comes from the franchise holders themselves.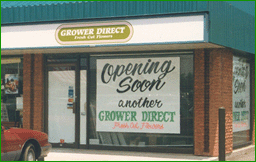 Grower Direct began operations in 1990 with the firm belief that there was a better way to provide flowers to the consumer other than the traditional methods used in North America. With hard work and dedication we have grown into the largest flower franchise in Canada.
Grower Directs Mission Statement says it best:

Our mission is to make the enjoyment of quality fresh flowers an affordable everyday event in your home and workplace.
Customers love our large walk-in coolers where they can select exactly what they are looking for. Grower Directs commitment to their stores is to supply them with a wide variety of the highest quality flowers at competitive prices.

With stores across Canada, the strength and reputation of our brand continues to grow, based on a consistent commitment to high quality products and excellent customer service.

By controlling our own transportation and supply lines we are able to provide our stores with the freshest highest quality flowers. This is something that no other Canadian flower franchise has achieved, a fact that we are very proud of.

We are actively seeking energetic motivated people to become part of our team of store owners who are dedicated to volume sales of quality fresh cut flowers.
View our available franchise locations
Grower Direct Franchises, Franchise Opportunities, Retail Franchises, Best franchises, Top Franchises, Buy A Franchise, Franchise Canada, Franchise For Sale, Franchise Cost, New Franchise, Franchise Opportunity