Emotional Impact of Flowers Study
Emotional Impact of Flowers Study
Emotional Impact of Flowers Study
At Grower Direct we have always felt that a floral gift goes a long way in bringing a little joy (and some sanity) to an otherwise hectic day, After all, what better way to let someone know your thinking about them. As they say, "sometimes you have to stop and take time to smell the roses". We couldn't agree more and now scientific research confirms it!
So next time you want to send someone a gift, why not choose one that will not only bring a smile to their face but has been proven to have positive effects on the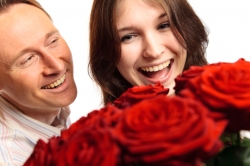 emotional well being. Give us a call or order on-line, either way we will make your floral delivery on time. You pick the occasion and we will make the arrangements!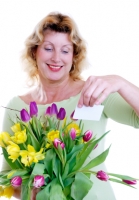 Flowers have an immediate impact on happiness. All study participants expressed "true" or "excited" smiles upon receiving flowers, demonstrating extraordinary delight and gratitude. This reaction was universal, occurring in all age groups.


Flowers have a long-term positive effect on moods. Specifically,study participants reported feeling less depressed, anxious and agitated after receiving flowers, and demonstrated a higher sense of enjoyment and life satisfaction.
 Flowers make intimate connections. The presence of flowers led to increased contact with family and friends.
"Common sense tells us that flowers make us happy," said Dr.Haviland-Jones. "Now, science shows that not only do flowers make us happier than we know, they have strong positive effects on our emotional well being."
Sharing Space
The study also explored where in their homes people display flowers.The arrangements were placed in areas of the home that are open to visitors – such as foyers, living rooms and dining rooms – suggesting that flowers are a symbol for sharing.

"Flowers bring about positive emotional feelings in those who enter a room," said Dr. Haviland-Jones. "They make the space more welcoming and create a sharing atmosphere."
Studies and Research data published here courtesy of SAF (Society of American Florists)

| Health Benefits | Gifts| Roses Delivered |Floral Gifts for Seniors |
| Roses| Colour Roses | Roses Arranged |Roses In A Vase |
| Floral Delivery | On Line Floral Delivery | Floral Gifts |