Romance
Flowers and Romance go hand in hand, and for good reason!
Flowers were considered to be tokens of love long before St Valentine. The Roman god named Bacchus and goddess named Venus believed that both the beauty and fragrance of flowers were symbolic of Love & Romance with the primary "love" flower being, of course, the Rose.
There are other flowers whose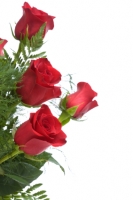 history is also steeped in love & romance:
Gardenia – Secret Love
Bleeding Heart – Hopeless but not Heartless
Sweet William – he is Gallant
Gladiolus – you touch my heart
Violet – your love is returned
Lily of the Valley – lets make up
Rose – you are loved passionately
Flowers speak their own language and most flowers (and sometimes the color) have a special meaning.
Here at Grower Direct we offer an enormous collection of romantic flowers whether it's your Anniversary or simply "just because".
In most cases if you place your order before 12:00 noon (in the delivery area) we will have your flowers delivered the same day within Canada and the USA!