Carnations / Mini Carnations
From an Old Italian word meaning complexion. The earliest Carnations bore flesh-coloured flowers, which gave rise to the name. Carnations got the name Dianthus from two Greek Words – "Dios", referring to the god Zeus, and "anthos", meaning flower. Carnations are thus "The Flowers of God".
CARNATIONS (dianthus caryophyflus)
MINI CARNATIONS (dianthus aryophyllus Nana)
Symbolizes pride and beauty.
Birth Month: January.

Carnations are flowers appreciated for their ruffled appearance, clove-like scent and extended blooming period.

Every flower has a history and every flower and every color symbolizes something, here are some colors and their meanings:
Pink: Mother's love
Light Red: Admiration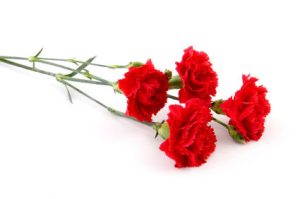 Dark Red: Deep Love and Women's Affection
White: Pure love and good luck
Striped: Regret, refusal
Green: St. Patrick's Day
Purple: Capriciousness

Yellow: Disappointment, dejection
Carnations are grown in two forms: Standard and Spray or Mini.
STANDARD: they are 5-7cm across and solitary on a stem, which ranges from 50-70cm long. These double flowers have five ragged, saw-toothed or scalloped petals that rise from a tubular calyx.

SPRAYS: commonly known as Minis have 3-6 flowers per stem and the flowers are 4-6cm across. These double flowers have five ragged, saw-toothed or scalloped petals that rise from a tubular calyx. Like their larger relatives, some cultivars have a clove-like scent. Most are double forms with many ruffled petals.

Spray carnations belong to the Caryophyllaceae (pink) family and are native to the Mediterranean region. There are some 75 genera and 2,000 species, many members of which are deemed wildflowers or weeds, including sweet William (Dianthus barbatus), baby's breath (Gypsophila), soapwort (Saponaria), corn cockle (Agrostemma) and chickweed (Stellaria).
Hundreds of varieties of spray carnations are available in virtually every color in the spectrum except blue, which is the holy grail of some breeders; as well as bi-colors and fleck cultivars. These flowers can be dyed or tinted to increase the already abundant color choices.
Care and Handling:
Remove any leaves that will be immersed in water.
Cut the bottom 1/2 inch off each stem at an angle using a sharp knife. (Do not use scissors as they can crush flower stems and prevent proper hydration, thus shortening the life of the flower.)
Make sure to use a clean vase.
Mix one liter of lukewarm water with the package of Grower Direct Fresh Cut Flower Food (provided with your flowers)
Be sure to measure carefully when adding food into the water as the proper quantities both feed the flower and inhibit bacteria growth.
Do not place flowers near heat (ie. Refrigerator or television), extreme cold, drafts, smoke fumes or in direct sunlight.
Water quality makes a big difference. Do not use softened water as it may reduce the life of the flowers. Use regular drinking water and if the water becomes cloudy, change it, add additional flower food and re-cut the flowers.
Design Suggestions:
Carnations and minis are extremely versatile. Use as a focal, feature or filler flower in arrangements. A wide assortment of color will provide Carnations which are appropriate for every occasion.
Use in hand-tied bouquets to add volume, color and texture.
Single stems of brightly colored Carnations are perfect for young customers.
Create a monochromatic display with other everyday flowers such as: pink Carnations, Statice and Roses, yellow minis, golden Aster and Gladolia or white Carnations, Calla Lilies and Gypsophila.