Asters(Callistephus chinensis) Symbolize patience, elegance and daintiness and is indicative of 'a love of variety'. Birth Month: September. In Greek, Aster means star, named so for its star-like blossoms. Legend says that it was created from stardust when Virgo looked down from the heavens and wept.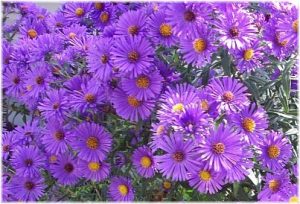 The genus name Callistephus (pronounced ka-LIS-te-fus) is derived from the Greek words "kallos" (beautiful) and "stephanus" (crown). This popular, long-lasting and economical cut flower, commonly known as China aster or annual aster, usually has a solitary blossom, but breeding advancements have produced plants that differ in height, growth habit, and shape and size of the flower heads as well as varieties that produce single, semi-double or double blossoms.
As cut flowers,China asters have rigid stems that are often 24 inches to 36 inches long. They hold long-lasting blossoms that don't drop petals.

Asters have daisy like flowers with a yellow or yellow/green center. They come in colours of yellow, white and all shades of purple from the palest lavender to deep purple. The colour naming in Asters is vague and adheres to no universal standard. Basically, a blue colour is either blue or purple on the blue side; purple is deep purple, fuscia or red is purple that is very red; pink and /or lavender are a light to very light purple. The bloom sizes may be very tiny to double blooms.

Asters have a variance in form as well. Some varieties have very short laterals, which gives them a tall, straight form like a column. Some have long laterals down the stem that give them a triangle shape and others have very long laterals that extend to the top of the stem, making all the flowers clustered at the top.

There are many species of Asters, but two common varieties are the Serenade Asters and the Matsumoto Asters, each with blooms approximately 3.5cm wide and cheery yellow centers. Serenade Asters are daisy-shaped and Matsumotos have double petal layers with scalloped foliage framing the blooms. Both types of Asters have many flowers on lateral stems, and a vase life of 6-7 days.
DESIGN SUGGESTIONS:
Used mainly as a filler flower and works well in bouquets and arrangements, the vibrant colors provide contrast in designs.

Asters mix well with poms, minis and carnations.

Use as an accent flower in arrangements.

Both types of annual Asters make excellent "cash & carry" bouquets; add a stem of filler flower to soften the look.