The Gerbera daisy Legend says that the daisy originated from a nymph who transformed herself into a charming but unassuming wildflower to escape unwanted attention. Since then, this April birth flower has had the flower meaning of implicitly and modesty.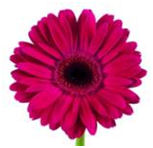 These awesome flowers are a genus of ornamental plant from the Sunflowers, Daisies and Aster's family "Asteraceae".
The Gerbera daisy is a native from Transvaal, South Africa, where it grows in full sun. It was named in honor of the German naturalist Traugott Gerber in 1743.
The Gerbera daisy has large colorful blooms, which has helped it become the most prized daisy variety.
Gerberas come in a wide range of colors, bicolor and tricolors… almost every color except blue. They
often measure 17-18cm across and can be colored light to dark yellow, orange, pink, brilliant scarlet and deep red. Some clones have flowers with brown or dark centers (eyes).

 Flower forms can be divided into five distinct groups:
Single: singles have a row of petals (ray florets) which do not overlap with a green center (disc florets). These are the most common gerberas on the market.
Double or duplex: these have a double row of overlapping petals with a green, black, or dark red eye.
Crested doubles:  contain two rows of overlapping petals with one or more inner rows of shorter petals with a green, black, or dark red eye.
Full crested double: these have solid overlapping rows of petals with an inner row diminishing in size, covering the eye entirely.
Quilled full crested doubles: this type possesses solid overlapping rows of split petals with a fine textured appearance.

Vase life varies from 7 to 14 days depending on the variety and time of the year.
Care & Handling:
Remove any leaves that will be immersed in water.   
Cut the bottom 1/2 inch off each stem at an angle using a sharp knife.
 (Do not use scissors as they can crush flower stems and prevent proper hydration thus shortening the life of the flower.)
Make sure to use a clean vase.
Mix one liter of lukewarm water with the package of Grower Direct Fresh Cut Flower Food (provided with your flo

wers)

Be sure to measure carefully when adding food into the water as the proper quantities both feed the flower and inhibit bacteria growth.
Do not place flowers near heat (ie. Refrigerator or television), extreme cold, drafts, smoke fumes or in direct sunlight.
Water quality makes a big difference. Do not use softened water as it may reduce the life of the flowers.
Use regular drinking water and if the water becomes cloudy, change it, add additional flower food and re-cut the flowers.
Design Suggestions:
A Gerbera daisy is perfect for any occasion as it is cheerful and playful. With its bold colors and regal bearing, the Gerbera Daisy is the favorite among daisies.
Gerbera daisies are the 5th most popular flower in the world. They are perfect for spring weddings and summer weddings. They also work wonderfully in fall wedding arrangements, and can be used to brighten up winter weddings as well. These beautiful wedding flowers will bring happiness and joy throughout the day and also make vibrant bouquets and centerpieces that are sure to catch everyone's eye.