Cut Flowers Colour Preferences
Flower Colours – Preferences differ between men and women
Hort-Science in their January 2010 issue featured an article looking at consumer colour preferences for fresh cut flowers, specifically comparing Mothers Day choices to other popular floral gift occasions such as birthdays and anniversaries.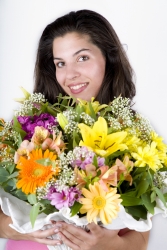 Researchers discovered that men and women showed differences in their cut flower colour preferences, these preferences were also influenced by demographics and occasion.
Funny enough at Grower Direct we have known this for years, but it is always reassuring that actual research backs us up!
For the purpose of the study, flowers were grouped into six (6) categories.
White
Yellow
Peach/Pink
Blue/Purple
Red/Bronze
Other
By specific colour the largest percentage of flowers purchased at 34% was Red/Bronze and the lowest at 10% was Yellow.  The "Other" category accounted for less than 5% of total purchases.

When it came to colour by occasion, both genders were more likely to purchase Red/Bronze flowers for an anniversary versus Peach/Pink flowers for Mothers Day.
Overall demand for Blue/Purple and Yellow flower colours increased over time, whereas the demand for other flower colour shades decreased over time.