Traditional Christmas Flowers
Christmas Flowers
Christmas is a holiday right smack dab in the middle of winter, a welcome break to the dreary winter season! This is why green is such an important color at this time of the year. It represents spring, rebirth and reminds us that warmer temperatures will soon be here again.
All of the Christmas flowers have specific meanings and a significant task to play. They signify love, peace, joy and opulence in many different cultures.
Here's a list of the widely recognized Christmas Flowers that we are going to talk about here:
The Christmas Rose
Holly
Mistletoe
Ivy
Christmas Trees
Christmas Wreaths
Poinsettia Plants
So what's in a Christmas Flower? Each one is steeped in it's own history and traditions. Lets start with our favourite;
The Christmas Rose

The Christmas Rose is an English plant and is considered world wide to be a "true" Christmas flower. It's blooming period is the winter season and it's sometimes called the Winter Rose or the Snow Rose. This flower is commonly found in Europe.
The legend of the Christmas Rose is closely linked to the birth of Christ. Here's how the story goes:
A young shepherd named Madelon, was tending to her sheep on a winters cold night when the wise men passed her field carrying gifts for the Christ Child. They had wonderful gifts such as gold, myrrh, fruits & honey. Madelon was very poor and could not afford a gift for her newborn king so she began to weep inconsolably. An angel saw her and took pity. He bent down and swept away the snow in front of her. In its place a most beautiful white flower with a tinge of pink appeared; the Christmas Rose.
Holly

The Holly is known as a symbol of masculinity and is also used as a good luck charm. Before Christianity Holly was associated with the Romans and with Islam, for both cultures it was a symbol of good luck.
The Romans decorated their homes with this Christmas flower, as well as their temples and for their Saturnalia – a mid-winter feast. Holly was exchanged as symbols of friendship which acted as a bond of love and togetherness.
As Christianity evolved and became more popular the Pagan associations were lost and Holly became part of an important christian celebration; Christmas. Today Holly is associated with joy & tranquility, in fact it is said the best way to settle an argument is to do so under a Holly tree!
Different cultures have their own beliefs and traditions surrounding Holly. In England it was used to frighten off witches and other evil spirits. It was even said that if you placed Holly around a young girls bed you would ward off naughty goblins! In Germany; Holly that had been previously used in church decorations was considered to be magic & was used to protect homes from the ravishes of thunder and lightening.
Another common belief was to place a sprig of Holly on the bedpost to bring sweet dreams.
Holly has medicinal properties as well, a tonic made from holly was reputed to cure a cold.
Mistletoe
Mistletoe is another Christmas flower whose origins date back to Pagan times. Druid priests used this flower in their winter celebrations, it was magical as it had no roots but stayed green for the duration of winter. Ancient 
Celtics used mistletoe as an antidote for poison, to ward off evil spirits and to help with infertility.
Used as a symbol of peace by the Romans, it was said that enemies who met under the mistletoe would lay their weapons down and actually embrace!
Scandinavians associated this flower with Frigga, the goddess of love. This is where the tradition of "kissing under the mistletoe" originated. To this day it is believed that kissing under the mistletoe during Christmas promised happiness and good luck for the year to come.
Due to it's Pagan roots, early churches banned the use of mistletoe and instead encouraged it's followers to use Holly for their Christmas greens.

Ivy – Ivy signifies faithfulness, affection and true love, for both marriage and friendship. In Christianity it symbolizes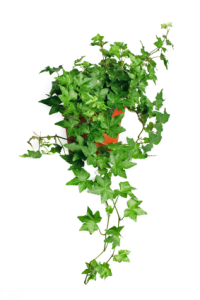 eternity and resurrection. It also said the ivy's need to cling to some form of support is symbolic of humanities need for divine support.
Traditionally at Christmas time ivy is only used on the outside of a building in order to represent mortality. After Christmas it is brought indoors to brighten a room and freshen the air during a long cold winter
The Christmas Tree
This is one of the most widely recognized Christmas symbols around the world. Today's varieties include the 
Douglas fir, Virginia Pine, Balsam fir & the Scotch pine, amongst others. In past history the Hawthorn and Cherry trees were used. Christmas trees can be traced back to the 7th century AD. A monk who traveled to preach the gospel had used the triangular shape of a fir tree to describe the Holly Trinity of God, the Son and the Holy Spirit. Those who embraced the new faith began to consider the Fir tree to be Gods tree. By the 12th century it was a symbol of Christianity.
The idea of decorating a tree became popular in Victorian times. They used a star for the top and decorated the rest of the tree with beaded decorations, snowflakes, candles and silver tinsel. This is also when themed trees started to become popular, for example a color theme.
The Christmas tree has always symbolized birth and new beginnings during the darkest time of the year – winter.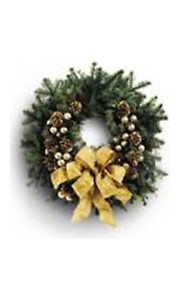 Christmas Wreaths – Wreaths symbolize a never-ending circle of life. Traditionally wreaths featured 4 candles, three were purple and one was pink. These candles represented 4 weeks of preparation for the Christmas holiday. The 4th Sunday before Christmas day the first purple candle was lit with a prayer offered to Jesus who is about to take mortal form. The 3rd Sunday another purple candle is lit and stood for love, then on the 2nd Sunday before Christmas the pink candle was lit, which stood for joy. Finally, a few days before Christmas the last purple candle was lit which symbolized peace.
Poinsettias – This is the most popular Christmas plant in today's world. It's also a plant that we sell, in both red and white, large and small. We have so much information for you regarding Poinsettias that they have their own dedicated page on our site! So if you want to put to rest the myth that Poinsettias are poisonous, read about their unique history or learn how to make your Poinsettia last til next Christmas and a whole lot more; head on over to our Poinsettia Information Page.