Marketing Material Samples
At Grower Direct we produce a wealth of brand specific in store material for our franchisee's. Everything from point of sale material to packaging material. All are designed to provide our stores with ways to grow their business and stay one step ahead of their competitors.
Calendars
Each year we produce a calendar featuring the latest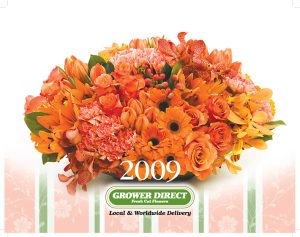 in floral design. These are available to our stores on a personalized basis featuring their own contact information. The calendar is the foundation of much of our in store material.
Posters
Every year we introduce a new series of posters based on the months of our calendar. These full colour posters are an excellent way to showcase the caliber of work available in your store.
Newsletters, Flyers, and Coupons

We offer a complete series of newsletters for both customers and store owners featuring industry information, reminders and more. As well we also offer a variety of coupons and flyers offering specials and floral information to our customers.
Packaging Material
Grower Direct has private labeled a number of everyday floral packing items used on merchandise that our stores sell. These include care tags, wrapping paper, and flower food. This is an effective way to brand your product when the final recipient receives it.