(glad-ee-oh-lee) (plural – Gladioli; singular – Gladiolus)
Symbolizes strength of character, faithfulness and honor, also signifies remembrance.
Birth Month: August

Gladiolus (from Latin, the diminutive of gladius, a sword) is a genus of flowering plants in the iris family (Iridaceae), close "relatives" include montbretia (Crocosmia), Crocus, and Freesia. Common names include "glads" and "sword lilies", which refers to its leaves which are long, thin and pointed.

The first of the 250-300 existing gladiolus species originated in South Africa and the Mediterranean region. The flower was later brought to Europe, where it was hybridized to create today's many Gladiolus cultivars, bearing almost every color except true blue.

The impressive flower spikes of gladioli come in a wide array of beautiful colors. Long, thick stems display individual blossoms which range from 2″ to 5″ in diameter. Large and small, traditional and miniature.
Traditional  large flowered Gladioli normally will feature 10-16 alternate facing funnel shaped blooms and buds mostly on one side of their 3′ – 4′ stems
Miniature Gladioli feature stem lengths of less than 2′ and often have ruffly petal edges and blotched colouration.
Colour Availability:
Gladioli come in a very wide range of colours. Colours available include (just to name a few):
Apricot, Burgandy, Coral, Cream, Green ( yes, even green), Lavender, Orange, Pink, Purple, Red, Salmon, White, and Yellow. To top it off bi-colour varieties are also available.


Availability:
Gladioli available year round generally from growers in the US & Holland and shipped around the world. A growers production will depend greatly on their location with some growers production running May through December, while other growers producing from November through May. In Canada we typically see field grown gladioli showing up in retail stores each year in August.
Care & Handling: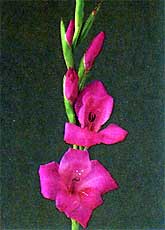 Remove any leaves that will be immersed in water.
Cut the bottom 1/2 inch off each stem at an angle using a sharp knife. (Donot use scissors as they can crush flower stems and prevent proper hydration, thus shortening the life of the flower.)
Make sure to use a clean vase.
Mix one liter of lukewarm water with the package of Grower Direct Fresh Cut Flower Food (provided with your flowers)
Be sure to measure carefully when adding food into the water as the proper quantities both feed the flower and inhibit bacteria growth.

 

Do not place flowers near heat (ie. Refrigerator or television), extreme cold, drafts, smoke fumes or in direct sunlight.
Water quality makes a big difference. Do not use softened water as it may reduce the life of the flowers. Use regular drinking water and if the water becomes cloudy, change it, add additional flower food and re-cut the flowers.
Alstroemeria is ethylene sensitive. Keep away from all external sources of ethylene, such as fruit, carbon monoxide and decaying plant material.
Design Suggestions:
Vibrant colors provide contrast in designs.
Mix with other spring flowers in arrangements or in hand-tied bouquets for a fresh, crisp, spring look.
Glads are especially striking when arranged in a tall glass vase.
Use as a "line" flower in arrangements.
Traditionally used in funeral arrangements.