Campanulas
There is hardly a group of flowers which possess such rare beauty as does the large genus of Campanulas. The genus includes nearly 300 species, from dainty miniatures to stalwart uprights.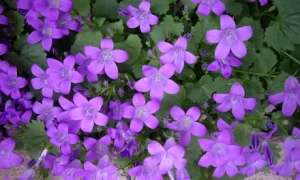 Campanula is a Latin word that means "Little Bell" derived from their bell-shaped flowers.
Campanulas varyin size, shape, and plant form but are usually available in various shades of blue, lavender, white and pink. Many of the species are grown in gardens for their elegant flowers.
The cut-flower species include Campanula medium (also known as Canterbury Bells) Campanula latifolia and Campanula persicafolia. Their stems take up much water and as such perform best with no floral foam in the vase.