Press Release About Growers Direct
Quick Links:
Grower Direct Partners with ESSENTIAL Accessibility | Grower Direct Celebrates 25 Years with New Website | 3rd-Generation Websites | iPhone App | Mothers Day 2010
---
September/October issue of Franchise Canada
Grower Direct Partners with Essential Accessibility
Grower Direct Fresh Cut Flowers recently announced a partnership with eSSENTIAL Accessibility to feature assistive technology on its website that will allow customers with physical disabilities to access online services.
"Grower Direct is committed to providing the best possible access for our customers on our website," says Doug Munro, CEO of Grower Direct Fresh Cut Flowers. "We are very happy and proud to be the first flower retailer to work with essential Accessibility in this initiative and provide a more comprehensive service to our physically disabled customers."
Part of a Disability Community Involvement initiative sponsored by March of Dimes Canada, the application allows users with dexterity limitations and visual impairments, as well as individuals with literary deficiencies, to use assistive technology to access the Internet.
"Eliminating the digital divide has become increasingly important as essential service migrate online," says Simon Dermer, managing director, eSSENTIAL Accessibility". "Grower Direct Fresh Cut Flower, along with other organizations that are joining this initiative, is setting a new standard as they build a bridge to the disability community".

PLUS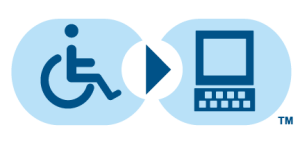 =  ACCESS FOR ALL!
---
Grower Direct Celebrates 25 Years with New Website
Canada's largest flower delivery chain has launched a new and improved website with more information, contests, and pro advice than ever before. For 25 years, grower Direct has been providing fresh, beautiful flowers to Canadians and now they've made it even easier to have flowers delivered anywhere in the world. GrowerDirect.com is now filled with valuable information about everything from the health benefits of flowers to which plants are toxic to your pets.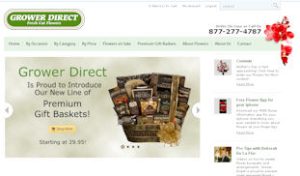 The site is now a one-stop floral information, education and shopping venue. Site visitors will have access to:
Contests
Grower Direct's FREE iPhone Flower App
Sale Flowers
 Pro Floral tips
Informational and educational flower articles and blogs
The launch of the new website marks 25 years since Grower Direct's launch in Canada, and CEO Doug Munro can't think of a better way to celebrate. "Grower Direct has always strived to provide Canadians with not only fresh and beautiful flowers at the best price possible, but also wants to instill and encourage a love and appreciation of flowers in all of our customers. We think the new website is an exciting way to help interact directly with the public and give them the information they need to appreciate how great flowers really are, and how easy it is to order fantastic flowers online."
Grower Direct started in 1986 as a venture from the back of a car and since evolved into Canada's largest flower delivery chain. Grower Direct's mission is to make the enjoyment of quality fresh cut flowers an affordable, every day event in people's homes and workplaces. GrowerDirect.com is the easiest way to follow this mission and show people how easy it is learn about and order flowers online.
Grower Direct has pioneered the concept of affordability and expertise in the retail floral business in Canada and provides a "stress-free" environment both online and at their retail locations for flower-lovers everywhere.
---
3rd-Generation websites go far beyond earning money

EDMONTON, AB – Dragan Marjanovic is beaming these days. That's a whole lot better than merely smiling. Marjanovic has good reason to be jubilant. As general manager of Edmonton-based Mediashaker, his company is on the cutting edge of perfecting third-generation websites. In layman's lingo, that puts his company on the technology cusp in the fiercely competitive website development niche.  
A history lesson The first generation was just that – the first websites. The second, sometimes called Web 2.0, were modifiable, and incorporated features like video and, for businesses, methods for customers to order and pay. But communication was still one-way.  Third-generation sites fuse contact and client management, social media, billing and more in a single, easy-to-use platform, such as Mediashaker's ShoutCMS.  These sites go beyond making a simple sale, Marjanovic says. While revenue generation is important, what makes these websites unique is "that they actually engage and connect with customers." What's being transacted is not just money, but thoughts and ideas.
A successful third-generation website allows clients and visitors to interact with businesses.  The days of pushing content in visitors' faces are over, according to Doug Brown, managing director of Copeland Communications, a Victoria, B.C.-based ad agency. Social media has transformed how people view the Internet, he says, adding that they now expect to be heard – to interact with businesses they patronize the same way they interact with their friends.  Interaction is triggered from comments on a regularly-updated blog, Facebook "like" buttons, Twitter, and similar variations. Ideally, businesses will encourage interaction through several different avenues, says Brown.   A well-constructed site with relevant, interesting content that allows for interaction will dramatically outperform static, sales-oriented sites, says Marjanovic.
 He cites companies Grower Direct and Live Local as examples. Ten years ago, Doug Munro, CEO of Edmonton-based retail florist Grower Direct, envisioned the future. The bulk of his business, he predicted, would not be coming through his franchises' doors but through the company's website.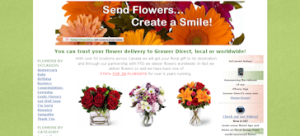 Munro then made a prescient decision that helped turn his firm into the largest flower franchisor in Canada. The best way to increase his website sales, he decided, was to actually downplay its e-commerce role. "Most websites in our industry focus on selling," Munro says, "but we wanted to look to the big picture," and that meant turning Grower Direct's website into an encyclopaedia of all things floral – with sales seemingly incidental.
 Information drives traffic Munro estimated that less than five per cent of his company's website is dedicated to sales. Far more bandwidth is dedicated to information about flowers, which is free to visitors. The main traffic driver on the site is the hundreds of pages about flowers. That has meant a dramatic increase in the website's traffic, as information-hungry visitors want to know more about the link between flowers and emotional well-being, and the care and feeding of flowers, for example. Munro stressed that it's not just about imparting fluff information. While there is plenty of "fun" information, like charts to determine what flowers to buy for a particular holiday or anniversary, there's also important information, such as the effects of ethylene gas on certain flower varieties.  To keep visitors coming back, Grower Direct has two employees updating content. The company also recently launched a free download iPhone application, with 300 pages of frequently-asked questions and answers about flowers and their care. Why make customers pay for the privilege of buying flowers? Munro asked.  "It's not necessarily about getting the sale today," Munro says. It's about making his site the only site to consider when buying flowers.
Non-profit site encourages Albertans to shop Live Local is an Edmonton-based non-profit organization dedicated to promoting and encouraging Albertans to shop, eat, and dine at local independent businesses. Until November, its website (www.live-local.ca) was a WordPress-based site; a blog constructed from a template – and a very basic one at that. Live Local had envisioned its website would serve as a hub for member businesses, but it wasn't working as well as they had hoped. "It had Google Maps and a directory, and that was about it. There was no interactivity; it just was not a destination," says Francene Brothers, one of Live Local's two managers. And if the people you are targeting are affluent and tech-savvy, expecting interactivity, this was inexcusable. Something had to be done. In early November, Live Local pulled the plug on its WordPress site and flicked the switch on its new site based on ShoutCMS, Mediashaker's web design and management platform.
The results were positive, immediate and dramatic.  First, Brothers and her partner are now spending much less time on the site.  But more impressive, people started to visit the site more often and spend more time there. The length of the average visit increased from 30 seconds to 3.5 minutes. The biggest reason, Brothers says, is interactivity. "(Our visitors) can contribute now – and they do. They see their contributions, be they tweets or Facebook updates, in real time, and get a lot more detail," she says.
The common thread, says Marjanovic, is value. "What you have on your site, people have to be interested in." That doesn't necessarily mean the general public For Grower Direct, that's information about flowers, from their meaning to their care For Live Local, it's an interactive hub for and about local shops and restaurants.  But that critical lesson would apply to even the nut and bolt industry, says Marjanovic. "There are advances in metal hardening, new thread techniques, better machines – people who buy and sell bolts would want to know this stuff."  Traditional industries ought to consider that an invitation to join the third generation of websites. "Your clients are your social network," says Marjanovic, and it's important for businesses to think of, and treat, them that way.
---
Oct 14, 2010.
Straight from the Experts:
The Grower Direct iPhone App
Edmonton – The floral experts at Grower Direct want to share their love of flowers with you in a brand new way: the Grower Direct iPhone App.
This exciting and very practical application has been developed for iPhone users in the hopes that it will make everyday life a snap when it comes to researching, viewing, and ordering flowers from anywhere, at anytime. The Grower Direct iPhone App provides information on hundreds of topics about flowers and everything flower-related.
Developed in conjunction with crazedCoders, the free app will address questions such as:
How old is the world's oldest rose bush?
How do flowers affect people's moods?
Which flower is associated with a 25th Wedding Anniversary?
The app is sure to be popular among those who need a little  help when it comes to ordering and choosing flowers for any occasion and features the popular "Guys Guide to Giving Flowers" to ensure that birthdays and anniversaries are top priorities in every household. With the fun new app, flowers can be sent anywhere in the world with the push of a button.
Designing this free app for users who are interested in everything and anything flower related was a logical step for the Canadian retail flower chain. The Grower Direct iPhone App is made for those who just can't get enough of this popular subject; the facts, tips and trivia available in the free iPhone App will keep users informed about care and handling of cut flowers, current trends in flowers and design, the right flowers for the right occasions, and even give you access to special promotions. People across the world will be able to look up any fact they'd like to know about flowers including: health benefits, flower meanings, and flower varieties.
"We know flowers," says Grower Direct CEO, Doug Munro, "and we want to share that knowledge with people everywhere."
Grower Direct has pioneered the concept of affordability and expertise in the retail floral business in Canada and is bringing it to the public on a whole new level with the free Fun Flower Facts iPhone App.
Look for the Grower Direct App on October 14 at www.itunes.com.


Screenshots from the iPhone App – Fun Flower Facts
Grower Direct Presents Mother's Day Flowers
Edmonton, Alberta — Grower Direct is proud to present Flowers For Mother's Day; a traditional, yet ground-breaking idea this Mother's Day – May 9, 2010.
This contemporary and novel suggestion is based on Mother's masterpiece, "I raised you and never asked for anything in return." It's a story of undying love, boo-boo kissing and fanny wiping and it has been going on for eternity. Mothers say they don't need applause, but the general population knows better and so does Grower Direct. When your Mother spies the bouquet of flowers sitting on the kitchen table or beside the bed, she'll know it comes from the heart.
This Mother's Day, international flower delivery chain, Grower Direct, wants to salute Mothers everywhere with the ultimate gift that says "Thank-you" – a bouquet of Mother's Day flowers as beautiful as that wonderful care-giver is. Mothers make beds, take care of family pets, clean up their favourite lamps (that was in pieces on the floor) and change dirty diapers – not because she had to, but because she wanted to.
Why flowers on this exceptional day? Flowers embody the meanings of life, elegance and beauty: the very essence of Mothers; and are the perfect way to show appreciation for all they do. "Because I want to make sure I don't forget that special woman in my life," says Doug Munro, CEO of Grower Direct.
Also available online for Mother's Day Flowers are facts, tips andtrivia about this one day of the year that's so important, it can't be forgotten. Grower Direct has pioneered the concept of affordability in the retail floral business in Canada. Beautiful fresh-cut flowers can be ordered and delivered worldwide at prices anyone can afford. Within Canada wherever possible your order will be filled by one of the many Grower Direct stores. Grower Direct offers amazing prices on hundreds of different bouquets and floral arrangements. Their online ordering system provides an easy "stress free" way to send flowers virtually anywhere.
"We know flowers," says Grower Direct CEO, Doug Munro. "We've been delivering flowers for 20 years – we'll get them to your Mom on time." Grower Direct guarantees satisfaction and they guarantee your Mother will be crazy about her special bouquet too.
So this second Sunday in May – May 9, 2010 – show her that you care enough to go to the local Grower Direct franchise or visit Grower Direct Fresh Cut Flowers and hand pick the Mother's Day Flowers bouquet that says Thank You to the woman who needs no thanks, but deserves it all.