The Daffodil symbolizes regard and chivalry and is indicative of rebirth, new beginnings and eternal life. A single Daffodil foretells a misfortune and a bunch indicates joy and happiness.
Birth Month: March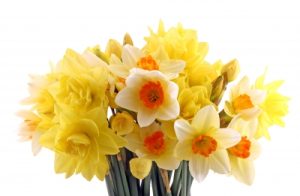 Daffodils belong to the genus Narcissus. Daffodil is the common English name and Narcissus is the Latin, botanical name for them all.
In Greek mythology, Narcissus was a beautiful child, so awestruck by his appearance that the gods turned him into a flower. This is where we get the term "narcissism".
Narcissuses originate from Europe, North America and western Asia. These blooms are immensely odorous and are a lovely way to welcome spring.
Narcissus represents the broad botanical term for the plants that are known as Daffodils, narcissuses and paper whites. Daffodils are single flowers in the shape of trumpet; paper whites are small white-colored flowers growing in clusters.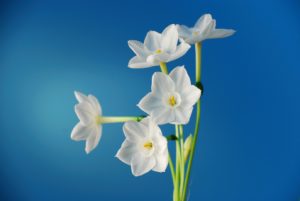 Narcissus also means 'numbness' referring to the narcotic properties of the plant.  The bulb contains a toxic substance called Galanthine, a poisonous floral substance that is being used in medicine for Alzheimer's cure.
Most Daffodils are available in a wide range of colors, shapes, and sizes and new cultivars are added annually. The traditional daffodil is solid yellow, but many variations include yellow with an orange center, white with an orange center, white with a yellow center and solid white. White Daffodils are called Paper Whites and are commonly known as the Christmas Daffodil.
Daffodils grow perennially from bulbs. Daffodils for cut flowers mainly fall into the 'Trumpet' division (i.e. Dutch Master and King Alfred) or the 'Large-cupped' division (i.e. Carlton and Ice Follies).
Available: November through early April
Care & Handling:
Daffodils have a short vase life of 4-5 days. To slow down opening,place stems in 2″ of cold preservative solution, without re-cutting stems. Consider pre-chilling water in cooler overnight or using ice chips in tap water to bring water temperature down.

Daffodils secret a sappy substance called latex which is harmful to other flowers. Do not mix daffodils with other flowers unless the daffodils have been in water for 24 hours and the water changed.
Check your water level and replenish with cool preservative solution daily.
Design Suggestions:
Several stems of daffodils in a vase can make a wonderful spring arrangement.
Use as feature flowers in designs with other spring flowers after they have been processed properly (in water for at least 24 hours).
When designing with floral foam, poke hole in foam with another instrument first, before inserting daffodil so as not to clog stem.
Use in a hand-tied bouquet of spring flowers including stock, iris and golden aster.
Display with other Dutch products such as iris, tulips and lilies.